A new level of CARE for your community

Active learning to care for your community
As the first step towards long-term care strategies, Premergency's Community Paramedic training program utilizes Problem-based learning (PBL) and focuses on a patient-centric case-based model to build upon
the paramedic's experience.
Designed to prepare paramedics to practice their skills within community environments with confidence, this is an asynchronous online training program fully facilitated by qualified instructors.

Community

Awareness

Relationship

Experience
What is Problem Based Learning?
A learning approach designed to foster critical reflection leveraging real-life scenarios and group dialogue to promote deeper understanding and critical thinking skills.
Premergency's Community Paramedic Training Program enhances critical thinking, problem-solving and communication skills; and through problem-based learning, prepares the paramedic for an independent collaborative evidence-based practice.
Learn more about Problem-based Learning and Community Paramedic with this video!
Watch PBL & Community Paramedic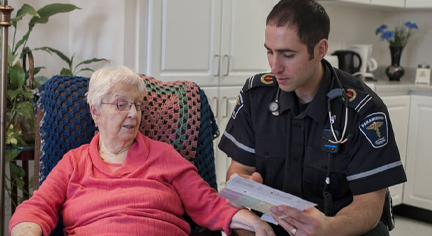 Empower people to help people
Our Community Paramedic Training Program conveys our purpose as it is:
To empower and help people.
We aim to prepare the paramedic to provide home-based care that creates value and peace of mind through Community Paramedic practices that will help ensure the
well-being of patients, families, and communities.
Key Learning Goals
The program - as detailed and comprehensive development- has four main
categories for its Learning Objectives that work together towards
our goal of providing a new level of care for our communities.
Our main goal is to prepare the paramedic to utilize their traditional skill set
while practicing in a non-traditional environment to enhance the patient's safety and wellbeing.
Course Structure & Curriculum
The program is structured into nine modules,
a reflective writing assignment,
and a scenario-based exam.
The program is equivalent in length to a single semester 45-hour course requiring an average of 80-100 hours to work through all of the material.**
PBL is built on the foundation of collaborative
dialogue and group work. Participants will benefit
not only from the program but from their peers as well.
We recommend members of each group to work
at the same pace, the length of the time to complete
the program is determined by each group.
The Community Paramedic Practitioner training program is designed to enhance independent practice as a community paramedic; fostering critical thinking, problem-solving, and communication skills. Learn more about our program and additional details!
Download Premergency's CP Book!
**The Community Paramedic Training Program is didactic only. Clinical placements, if required,
are the responsibility of the host paramedic service.