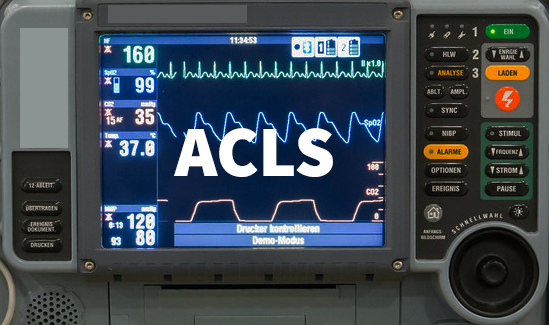 Wallet Card

Online + 8 hours On-Site

ACLS Provider Manual

2 years validation
Description
Premergency offers unique, medically directed Advanced Cardiac Life Support (ACLS) courses.
This is a Blended Learning program. Each participant will access our dedicated Online Learning Platform to begin their training with interactive online tools to promote knowledge and skill acquisition with maximum retention on managing advanced cardiovascular emergencies.
Each module reviews ILCOR competencies of Advanced Cardiac Life Support prior to the live training "hands-on" component of the program.
Participants must achieve an 80% passing grade prior to attending the live practical session.
The live training session will provide the participant with a simulated environment in managing their skills in:
Airway Management and Ventilation
CPR evaluation
ECG interpretation
Defibrillation, Synchronized Cardioversion and Pacing
IV/IO
Pharmacology
Cardiac emergency(s) management
Management of ROSC
Team leadership
Upon completion, each participant will get an ACLS Provider Level Certification by Premergency Inc.