Industries around the world are facing new challenges every day. Especially during difficult times like these. But it is times like these in which we need to be resilient and show flexibility to evolve and move forward.
The same applies to the technology we use to achieve our professional goals. One key technology in every organization is a Learning Management System (LMS). A cloud-based platform that will help your team build up their skills through online learning solutions.
Leveraging an LMS will help establish a corporate culture around constant learning, innovation, and engagement. Teams across the organization will stay up-to-date with requirements, new products, legislation, trends, and more, increasing the performance and working towards the overall health of the organization.
What is a Learning Management System?
In simple words, an LMS is an online school re-purposed to achieve the learning and development goals of an organization. It is an elearning platform, meaning that it will allow you to create and deliver online courses while you track the performance of your employees. You'll be able to access strategic data to be able to identify gaps and develop improved learning strategies to keep your employees motivated and engaged.
How can Online Learning help my organization?
Think about the amount of information that professionals have to deal with on daily basis. From new requirements to on-going education to be competitive and maintain optimal performance.
Online learning can help you centralize, distribute and monitor resources and information. More so, it will help you adapt and process knowledge in a way that people won't feel saturated. An elearning approach will help you create responsive and custom content while your learners will be able to access it on any device, at any time from anywhere.
Your organization will be able to foster Social Learning, Interactive Activities and additional solutions, creating a friendly environment for in-house learning and development (L&D). The platform administrators will track the progress and will evaluate the impact their learning strategies have on achieving the established objectives.
What do you use an LMS for?
Create. Distribute. Manage. Track. Improve. Engage… and much more. A Learning Management System will help you do exactly that: Manage Learning. However, it would be very simple to just put it like that, so let's break it down a bit:
Learning & Development: The very essence of online learning. Creating and applying strategies that will allow your employees to develop their skills and capacities throughout different disciplines and requirements.
Compliance Training: Almost every business and organization needs to comply with legislative requirements. An LMS will improve your learning process making it more efficient and accountable.
Employee Engagement: Motivation is key. Keeping your employees informed and up-to-date with the business strategies, new technologies and knowledge, giving them resources to upskill their game with access to elearning courses.
Informed Development Strategies: Data is a valuable asset. An LMS will provide you with key information to create better strategies, identify gaps and improve your efforts towards employee performance.
Save Training Costs: A Learning Management System will allow you to save considerable training costs per user by offering accessible online training and centralizing your production efforts.
These are just some of several ways an LMS will be used within an organization and how it benefits them. Specific needs and requirements will vary based on industry and type of business.
What are the main features to look for?
To have a complete and efficient learning experience, you need to look for those features that align with your company culture and needs.
An LMS will offer you elearning and integration solutions that will serve those needs. You will start by looking for these five features:
Course Authoring: Interactive content is the first step. But also look for tools that will help you create courses that integrate with additional activities and resources. As well as tools to help you manage your user's
Customization: Creating your own branded interface will help you establish the right learning environment.
Responsiveness / Mobile: Today, users access online learning solutions from different types of devices. Be sure that your LMS is responsive and mobile-friendly.
Expandable: A cloud-based platform must be able to integrate resources and tools, as well as be able to grow its own capabilities alongside the organization.
Plugins: Arm your LMS with customized tools to maximize your experience.
A Learning Management System will have many valuable features. The most important point is for your organization to choose a solution that fits their needs and can offer a growth-focus approach by expanding its capabilities.
ALEN – An Advanced Learning Experience Network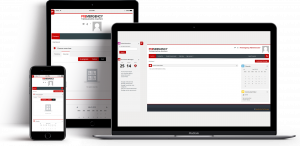 A Learning Management System powered by Premergency Inc. turned into a network of solutions to enhance the online learning experience of both, administrators and learners.
ALEN was first created as a simple LMS to help deliver training in more efficient and interactive ways. Over time, it evolved into a complete on-platform experience where organizations can do much more through learning initiatives.
Why should I choose ALEN?
ALEN fosters a learning environment with integrated solutions that work together to improve management, optimize workflow and, ultimately, empower your workforce with new tools and solutions.
Our LMS focuses on helping your team delivering interactive L&D experiences and workflow optimization solutions through custom Systems and Plugins that are specially designed to create, manage, and evaluate strategies across your organization. Through these systems, you can enjoy a simple, efficient, and innovative way of achieving your objectives.
Systems & Plugins:
Document Management System (DMS): Built to improve your documentation process. Be it tracking employee's documents, creating new policies, building new forms, and more. Our DMS will provide custom solutions to your needs.
Course Authoring System (CAS): Create powerful and engaging courses with interactive tools and a wide variety of resources and activities that integrate with additional corporate software.
User Management System (UMS): Organize teams, user sets, roles, and much more. No need to complicate an enrollment process anymore.
Reports & Data: Plugins designed to provide essential data and build custom reports to help you with informed strategies and user's performance and compliance tracking.
Process Optimization: Designed for efficiency. These plugins will improve your internal processes and aim for a friendly experience.
Besides amazing integrated tools, Premergency offers an LMS focused on the user's experience. We know that an on-platform experience is as important as the off-platform one. Understanding the importance of empowering organizations to develop learning and development strategies just as if they were about building relationships is key.
That is why ALEN is a network of solutions built around and for the user, and it is supported by excellent customer service with one objective: Make technology be invisible to the user and let them enjoy learning.
Let ALEN help you lead growth strategies across your organization empower your workforce to build upon their skills and capacities.
Request a Demo to discover how ALEN can help your organization to deliver exceptional learning and training experiences!